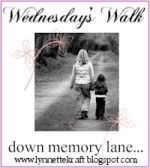 For my first shared memory, I'll tell you all about my first date with Dean. In fact, we just observed the 11th anniversary of that first date this past Sunday (January 4th). Can you believe it? Eleven years!? Wow...
Ok, so before I get into the actual "date", I have to give you a little background so you can clearly see how God brought us together.
Dean and I met while working at Egghead Computer (before they closed all their retail stores and became known as NewEgg.com) in September 1997. He was a good looking computer technician; I was a single mom working as a cashier. We were both dating our "exes" at the time; he was with his ex-girlfriend (who cheated on him years ago), and I was with my ex-husband. (We chalked that time in our lives up to not wanting to put ourselves "out there" in hopes of finding "true love", so we instead settled for what was "familiar".)
I'd always thought Dean was incredibly cute and charming, but we'd never really said more than 5 words to each other. That is until the end of December 1997, when we both found ourselves single again. Dean's ex had once again dumped him, and I'd decided to part ways with mine.
Dean took the initiative and became very flirty and silly with me at work. Granted, he was already quite silly at work already, so I really didn't think too much of it. That was just who he was. (And for those of you who know Dean, know exactly what I'm talking about!)
But then one day, while seated in a wheeled desk chair, he raced toward me with his arms outstretched, like he was about to hug me. I jumped out of the way, fearing I was about to have my toes rolled over! He laughed at me.
Then suddenly he stopped and, looking very serious asked, "So when are we going to go out?"
Now it was MY turn to laugh!
"I'm being serious," he said.
"Really?" I replied, rather surprised. I mean, this was crazy, silly Dean. He was NEVER serious!
We talked about it while on break, and realizing we both had Sunday off (it was Friday I believe), agreed to go out then. Dean said he'd call me with his plans on Sunday afternoon.
OH.....MY .....GOSH!!! I was so excited, I could hardly sleep for the next two nights. :o)
Around Noon on Sunday, the phone (finally) rang. It was Dean, asking how I felt about his idea for taking a ferry over to Kingston and having dinner at some Italian restaurant he'd been to.
(Gee, what do
you
think?)
He arrived via taxi, as neither of us had a car. On the drive toward the ferry dock, I think I did 90% of the gabbing. Dean seemed very quiet and shy, which I chalked up to nerves. (Which was the reason behind my motor-mouth.)
We walked onto the ferry, and I had to walk fast to keep up with his longer legs. He never turned around to see if I was coming, never held a door open. None of those fancy, romantic things I was expecting from a first date. I started to think that maybe he'd changed his mind about me. :-[
On the ferry, we sat in a quiet booth and talked about ourselves. We discovered that we both come from a family of "D" names, with the exception of our fathers. (His family consists of: Donna, Dyon, Dean and Russ. Mine consists of: Darlene, Denise, Desiree` and Tom.) We both had 1 sister, no brothers. He was the baby, and I was the oldest.
We both wanted to be married and raise a family. I was already there with Sierra, while he had no children of his own.
We both loved dogs, hated Miracle Whip and had our share of regrets from the past. But that was about all we had in common. He was a tie-dye wearing Dead-Head, who'd followed the Grateful Dead on tour for several years.
I had NO idea who the Grateful Dead were, and had never owned anything tie-dyed. I was more of a leather jacket person back in the day. Know what I mean? We were as opposite as two people could get.
And once we got all the above out of the way, Dean hardly had anything else to say. If I asked him a question, he'd politely reply. But beyond that...forget it. Now I
really
thought he wasn't interested!
At the restaurant he cleaned his plate, while I left 3/4 of my calzone untouched. It wasn't that I didn't like it; I just couldn't talk with food in my mouth. Believe me, I tried to keep up a steady stream of conversation despite the fact that I felt that I'd blown it with this really cute computer tech!
At the end of the date, he'd asked if I'd like to see his studio apartment. I was renting a shabby 1 bedroom apartment across town, so my first thought was to check out his building to see if the rent and space were decent enough to warrant a move. (The verdict: Space? yes. Price? no.)
As I entered his apartment, the first thing I noticed was that it was clean. Like really, really clean. In fact, there was hardly anything in it! No furniture to speak of, just a futon mattress in what I assumed was his make-shift living room/bedroom. A large TV on some sort of makeshift shelf. No dishes in the sink. In fact, there was a board over the sink for additional counter space.
Hmm. Odd
. But that was it. No other signs of life; not even a laundry basket! I felt his place definitely needed a "woman's touch".
I thanked him for giving me the "grand tour" and started to formulate a gracious "Thanks for taking me out, even though I clearly bored the crap out of you" speech in my mind. But before I even had a chance, he turned to me and said the most beautiful words of the whole evening....
"I had a really good time tonight."
"You did?!" I choked. He chucked. "Of course!" He then asked if we could go out again and I nodded my head yes.
He then put the side of his finger under my chin, lifted my face and gave me a very sweet kiss goodnight.
I was so surprised and nervous, I had to look away. In fact, he says I blushed. (Ahem) We said goodnight, and I left his apartment to go back home to my little girl.
That night, as I listened to Sierra's steady breathing beside me in bed, I thanked God for such a beautiful ending to my day. I also begged that it would be His will to allow Dean to be my husband, Sierra's daddy, and that we'd have more children together.
And He did just that. :o)
If you'd like to participate in Wednesday's Walk Down Memory Lane, click

here to go to Lynette's

blog, read the rules for posting, and get yourself signed up. :o)